Now that we can have friends round again, we may be looking at our homes with fresh eyes. Suddenly the piles of paperwork on the kitchen counter or overflowing bookshelves seem untidy. You may want your home to look more like the examples you see online – more inspirational and less, well, lived in!
Whilst we need to be realistic about how busy homes actually look compared to publicity shots, there is a professional design technique that we can copy to give our interiors the wow factor – the creation of negative space.
Negative space features in all design disciplines, from graphics to architecture and involves creating an empty area to better emphasise certain features. It may be that you have a gorgeous armchair hidden behind a coffee table piled high with magazines or in-front of a busy shelving unit. By taking out the surrounding visual distractions, the eye will be drawn to the shape of the chair making it a central feature of your design. The same might be true for a picture you love, or a light fixture – by imitating the techniques of the professionals you can create impact with the items you really love.
Negative space not only draws the eye to certain features in our home, but can also create a calm and harmonious space. If not every square inch is taken up with possessions, there is mentally room to breath and a sense of order in busy lives.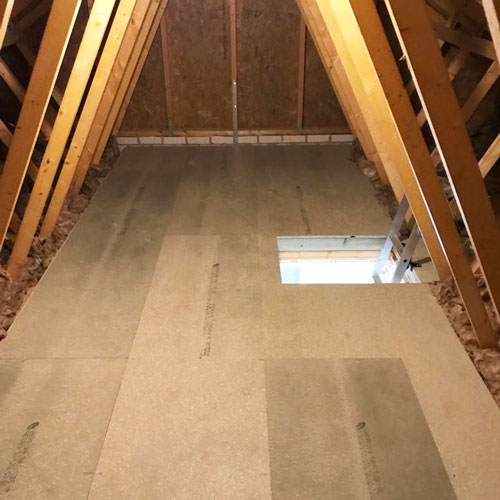 Of course we are going to suggest that loft storage is the answer as boarding lofts and fitting loft ladders is our stock-in-trade. Genuinely, we hear time and again from customers who have fallen back in love with their homes by creating proper storage. Suddenly there is an accessible place to put the items that they don't want cluttering up their living areas. Sometimes this can be keeping a few favourite ornaments on shelves whilst storing the rest, or putting CD collections that have been digitised out of sight. After all, we don't always want to part with items or need a "holding bay"until we are sure.
So if the lifting of restrictions and the prospect of visitors is making you reappraise your home, then give us a call. We are always happy to provide a no-obligation quote so you can see what good value boarding the loft provides. Contact us now.