We specialise in improving lofts and loft access. It's what we do, day in day out and it's been that way for more than 10 years.
You can't beat experience
All our experience means that very little throws us on a job because we've seen in all. Loft access in an awkward place? No problem, we can change the orientation of the opening or even move it altogether. Roof is low where the loft ladder comes up – again we can easily solve this with the right ladder which will not require much stowage space.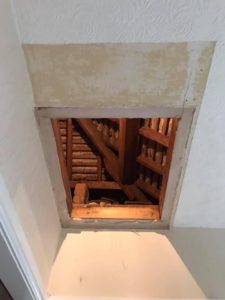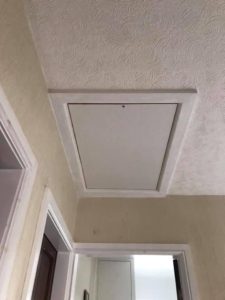 We can easily enlarge the loft opening to make it a more practical size, as above, or even move it altogether
Not all quotes are equal
We pride ourselves on offering value for money. We work quickly and efficiently because we know our trade inside out, which means that our prices are competitive. As always, be aware of quotes that seem too good to be true. Some firms will quote low to get the work. Check what exactly is included in the quote. The price you get should be the most you will pay on the day without any hidden extras. You should also find out what kind of ladder you are getting.
There can be a huge difference in loft ladders in terms of their specification and what weight they can bear. We only source top quality ladders from a specialist trade supplier that we have been using for a decade. Our happy customers are testament to the reliability of the products.
We only fit the best quality ladders whether aluminium or timber such as this one
Bespoke details
You might want more than the standard loft package. We are trained carpenters and can add in bespoke items. Recently one customer with mobility issues asked for a custom-made railing around the loft opening so that she could use it safely. We can also build loft storage with shelves wide enough to take bulky boxes and suitcases.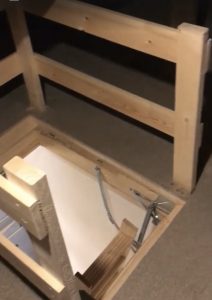 Above: this customer wanted a bespoke safety rail
We take out the hassle factor
We often share photos of the jobs that we do under the title of "what a difference a day makes." Our experience means that we can complete most jobs in less than a day- leaving you free to start storing and organising your belongings in the new space we create. We use large dust sheets and take away any debris with us. We can even paint loft hatches so that you would think they had been there all along. 
Customer recommendations
The fact that we have been improving lofts for more than a decade means that we have lots of recent reviews from happy customers. Take a look at the reviews section of this website and see our Facebook page. We are proud to be called reliable, professional and friendly by our customers.
Contact us now for a no-obligation quote and find out why using a specialist is best!