One of the benefits of having experienced carpenters board your loft and fit a loft ladder is their ability to create a bespoke installation to your exact requirements. This was the case at a recent installation in Studley, near Redditch, for a customer whose mobility issues meant that accessing the loft had been tricky.
More than just a loft ladder for Studley customer
The customer approached us for a quote to board and fit a wooden ladder to her home, a three-bedroom semi-detached. As she was happy with the price, the deciding factor was whether we could create a safety balustrade for her around the opening in the loft as she had some balance problems.
We crafted a strong wooden balustrade around three sides of the loft opening in order for her to safely and confidently access the loft.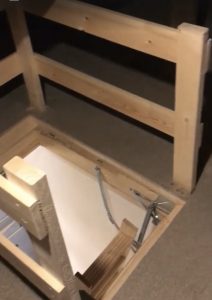 Safety rails and loft storage – our carpentry skills make the difference
Other add-ons we can provide are grab rails for older adults or built-in storage for suitcases, books etc.
Stu Dyson, founder and owner of Stu's Loft Ladders explains, " Because we are experienced carpenters, we can work around whatever issue the client has, whether that is adding grab rails or balustrades, or building in storage to make the most of a newly-boarded loft.  It makes sense to have this work done at the same time as part of the loft improvements. We are not just fitting a kit, we are shaping each installation to the customer's needs."
For more information or to arrange a free quote, please call us on 07712 327889.