Having solar PV panels fitted used to be a rarity, but these days it is a common step for people wanting to bring down their energy bills and take a positive step in tackling climate change. Increasing numbers of households are pairing a solar PV system with battery storage so that they can harness green energy during the day and power their homes in the evening.
If you are planning to house the system's inverter or battery in your loft, it is essential that you ensure safe and easy loft access. A job this week by our team in Bidford-On-Avon, Warwickshire, illustrated this perfectly.
Loft boarding for Solar PV battery in Bidford-On-Avon
The customer was having solar PV panels installed on the roof of his 3-bedroom semi-detached property. With a plan to store excess energy via a battery in the loft, he needed to ensure a safe and stable walkway for taking meter readings and servicing the system. He booked Stu's Loft Ladders to board the loft, ahead of installation to ensure that the job could be carried out safely.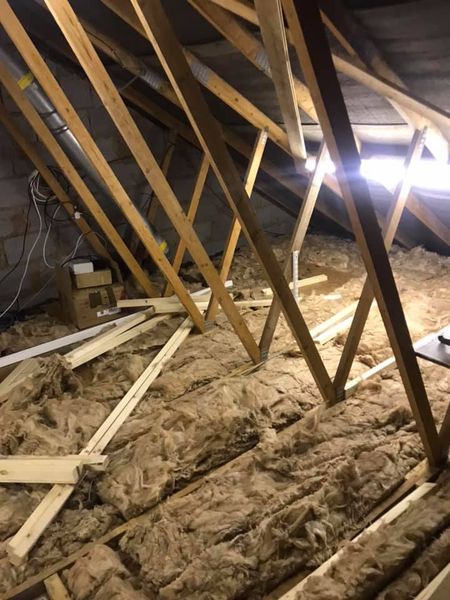 Creating a larger loft opening
As a further requirement, we were asked to move the existing loft hatch, which was too small to accommodate the battery. We boarded and plastered up the existing hatch and created a new, larger loft opening in one of the bedrooms.
Strengthening the loft structure
Concerned about the weight of the battery, the customer also requested that we increase the load bearing capacity in the loft, which we did by adding timbers to strengthen the structure.
"If you are thinking about solar PV systems, then you will need to ensure good loft access, with a stable walkway and a fixed ladder," explains Stuart Dyson of Stu's Loft Ladders. "It is not a large cost compared to the system itself, but one that people need to factor in when thinking about the total project cost. You may also need to look at enlarging the loft opening itself."
For advice and a no-obligation quote, contact us now through the website or call 07712 327889.