Five years ago our customers were shying away from wooden ladders, preferring the more cost-effective aluminium option.  Recently this has changed, so that in 2019 we have been installing more wooden loft ladders than any other kind. This shift in customer choices led us to wonder,  why the change?
In uncertain times we all know that people favour staying put and investing in what they have rather than moving house. In what has been a turbulent 2019 this must surely be a factor in people committing to top of the range ladders.
Add to this the fact that homes are getting smaller, particularly when you compare the living space in new build homes today with that of previous decades.
Whatever period of house we live in, we all have so much more stuff.  Most customers who contact us want to clear their loft to create more storage space and streamline their living spaces.
For many people this concerns items that they only use at particular times of the year or equipment for occasional hobbies. Some customers like to swap over their winter and summer clothes to create wardrobe space. When it comes to carrying heavy items up to a loft people prefer the sturdiest timber ladders.
Wooden Loft Ladder in Warwickshire
This was the case at a recent installation in the Bridgetown area of Stratford-upon-Avon, where we boarded the loft of a detached 1970's family home. At 35m2, this was a larger than average installation taking two days in place of the usual one.
Storage space at a premium in Stratford
The customer planned to  move items from both the garage and bedrooms freeing up valuable space in the home – at a premium with three children. The family enjoys camping in the summer along with all the equipment involved and planned to store items in the loft.
In order to comfortably and safely take larger items up to the loft, their preference was for a wooden ladder.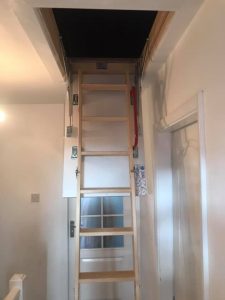 Timber loft hatch
To further ensure easy access, we enlarged the loft opening fitting a new timber hatch.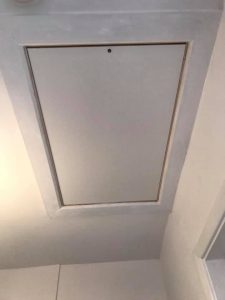 The customers were delighted and as soon as we finished were planning to spend the weekend de-cluttering and creating more space in their home.
"On average a wooden loft ladder costs £180 more than an aluminium option," commented Stuart Dyson, owner of Stu's Loft Ladders. "Whilst there are jobs where a lightweight aluminium or telescopic ladder are the best option, many customers, particularly those with larger loft areas, are choosing wooden. Fitting a loft ladder is something that you will most likely only do once whilst you live in a property and so people want the quality and strength of timber."
We are always happy to advise on the best loft ladder for your home and to provide a no-obligation quote. Call us on 07712 327 889 or message us.