New build to Victorian or even older, we have boarded properties from all these ages of construction. In fact, the oldest loft we have boarded was in a 300-year-old cottage for a customer who was delighted with the space we created for her.
Loft boarding must accommodate the quirks of an older property
Boarding an older property is not without its challenges. The older the property, the bigger the challenges, but they can all be overcome.
Visit a modern housing development and you will see rows of houses built to repeated designs. Older properties come in all shapes and sizes, with extensions and add-ons over the decades or centuries that have changed the shape of the roof space. Joists may be in awkward spaces and often there are water tanks, old pipes and other obstacles to work around. In these cases, boarding may take longer than usual as each board must be cut to accommodate the quirks and angles of the building.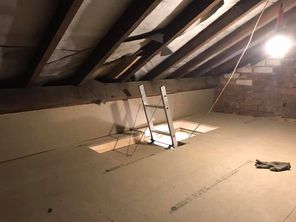 Raised loft boarding can protect timbers and allow for increased insulation
Whilst owners of new-build properties are very cautious about any boarding method that might invalidate their NHBC warranty, owners of period properties should also think about protecting roof timbers. Condensation may be an issue, and we might suggest raising the level of the boarding to protect the timbers or allow for additional insulation. Insulation is important as older buildings may not be as heat efficient and existing insulation may not meet current regulations. When quoting, we would look at the head room in the loft. If this were an issue, and we needed to raise the boarding, we might advise sticking to boarding a central section.
Fitting a new loft hatch can radically improve heat retention
In an older property, the loft opening might not be in the right position, possibly under the shallowest part of the roof line. We can move the loft opening entirely or change its orientation. In addition, fitting a new loft hatch can radically reduce draughts and improve heat retention on the floor below.
This is where you will get the benefit of employing a professional loft improvement company. We have been boarding lofts and fitting loft ladders for more than a decade in Warwickshire and Worcestershire, and in that time have boarded thousands of older and period properties. We are always happy to talk through the installation when quoting. Contact us now or visit our Facebook page to see photos of our recent work.