No space for a loft ladder?
Sometimes we find that customers have long harboured a belief that they do not have space for a fixed ladder to access their loft space.
This was the case at a recent installation in Barford, near Warwick, where we were asked to come up with a solution for easy loft access.
The homeowner of a detached house on the high street had been unable to use his loft due to a combination of a hatch positioned over the stairs and a lack of space in the loft for the traditional type of fixed ladder.
The solution: a telescopic loft ladder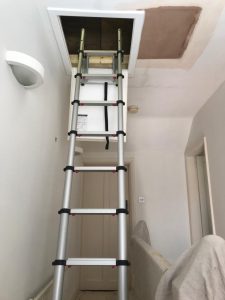 We recommended a telescopic loft ladder, which once folded only extends by 12 inches into the loft space.
In half a day, we were able to fit the ladder as well as change the orientation of the loft opening, repositioning it over the landing. In this case, the homeowner chose a plastic hatch surround, preferring its neat profile and finish.
"We find impractical loft hatches to be a common problem for house owners, particularly in older properties," commented Stu Dyson, owner of Stu's Loft Ladders. "The openings are often in a dangerous location over the stairs. We can advise on the best place to reposition it so that the loft can be accessed safely and easily. With the addition of a telescopic ladder, the customer was delighted with the solution we provided.
"We leave every job finished to a high standard, sealing and repainting around the hatch so that it looks as if it has always been there."
With a no-obligation visit our team can advise on the best combination of ladder and opening to suit every home.