Reasons to consider enlarging the loft hatch
If you are considering boarding your loft and fitting a fixed ladder you might also want to think about changes to the loft opening itself. Many people don't realise how easy it is to enlarge the loft hatch.
We often see older style hatches which aren't big enough to accommodate larger items. By enlarging the hatch you create new possibilities about what you are able to store. Suddenly you can take up those bulky items. Even bringing down smaller boxes becomes easier and safer when there is more space around the ladder.
With a skilled carpenter carrying out the installation, the integrity of the timber joists is maintained by inserting the proper supports as we cut a larger space. Re-plastering around the new opening leaves the ceiling looking as if the hatch was always meant to be there.  A responsible contractor will leave the site, painted to your specification and neatly finished.
If your preference is for a wooden hatch surround, then you will almost definitely need to enlarge the opening, as the smallest wooden hatch is 1m long – larger than most people's current loft hatches.
New loft hatch in Honington
In Honington, a hamlet just outside Shipston-on-Stour, we improved the loft access in a barn conversion with a large attic space.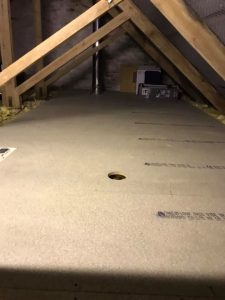 Half of the loft was already boarded but, as is often the case, the family's circumstances had changed and they now wanted to board the entire area.
The owner's elderly father had come to live with them and they required more storage space to accommodate his belongings. As some of these were bulky, we recommended enlarging the loft opening as part of the job, which also included fitting a wooden ladder.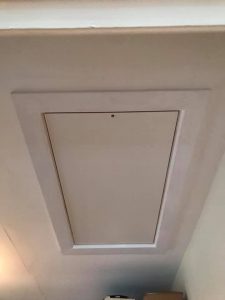 Repositioning loft hatch
Not all properties allow as much space as this barn conversion, however enlarging the loft hatch is not the only option for improving access. Where space is tight, for example on a landing, we can reposition the hatch to make it safer and more convenient to access.  This often involves a change in its orientation so that the ladder descends safely away from the stairs.
Whatever kind of property you live in, we can suggest ways to make the most of your loft. Message us to request a no-obligation visit.