Customer confidence grows for home improvements with social distancing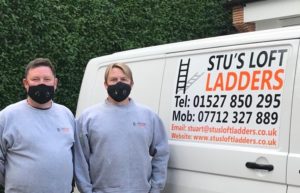 It's good to be busy. For any small trader getting through lockdown has been hard and the return to a new normal has been a nervous time for both customer and business owner. We have been delighted to see trade pick up from the start of July as customers show confidence in having us work within their homes to improve loft storage.
"Over lockdown everyone has been stuck in their homes, with time to think about what they could improve," commented Stuart Dyson, owner of Stu's Loft Ladders. "Creating accessible storage in the loft through boarding and fitting a fixed ladder can be a small change, but one that allows homeowners to transform their living space. No more infrequently used items taking up valuable space in rooms and garages, instead they can be carried safely and easily up to the loft. Boarding also means an end to precarious balancing between joists.
"To start with trade was slow but steady; now customers are regaining confidence and want to get on with jobs." 
Last week our team quoted on seven jobs, six of which are set to proceed. The legacy of lockdown is that customers want to think for longer before proceeding. In these strange times, we all want to be sure that we are doing the right thing. 
"Post-lockdown, people are definitely taking longer before they decide to proceed," explained Stuart. "Normally we give customers a price when we visit and they make a decision whilst we are still there. If they say they want to think about it, it usually means a no, but that is not the case at the moment, as customers are calling back after a week and wanting to go ahead.
"We are able to reassure customers that we take social distancing very seriously and that the job is nearly always completed within the day."
Loft boarding, ladder fitting and new hatch in Redditch 3-storey home
This week we have helped homeowners in Redditch to gain full access to their loft with the holy trinity of loft improvement: enlarged hatch, fixed ladder and boarding. In a modern property we enlarged the loft opening to fit a standard plastic surround, which leaves a neat finish on a landing where space is tight. The customer chose a lightweight, easy to operate, aluminum three-section ladder – again a great choice where space is limited.
Studley traditional semi-detached is perfect for loft storage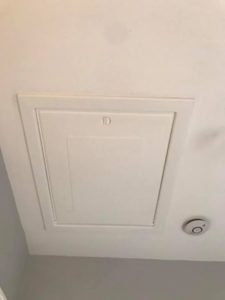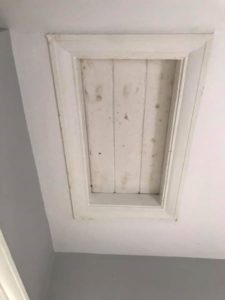 The enlarged loft hatch and as it was when we arrived
We also completed loft improvements in Studley in a 1930's semi-detached with lath and plaster ceilings. This traditional style property is perfect for creating storage space as the triangular structure without additional trusses leaves a large area. In this case, we fitted a fixed ladder and loft hatch, leaving the customer the option of completing the boarding at a later date.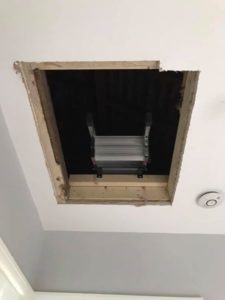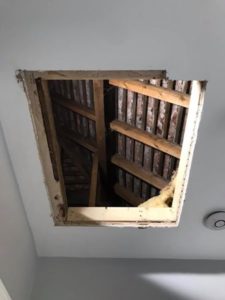 Having removed the old surround, we enlarged the hatch and fitted a fixed aluminium ladder
As we started by saying, it's good to be busy. We've been delighted to receive four glowing reviews in two weeks on our Facebook page. For independent traders, the upside of customers homeworking is that they are at their computers ready to post reviews!